Last year, NASA named the first Artemis astronauts. The mission to return to the Moon begins with the first Artemis flight scheduled to launch later this year. We are featuring each of the Artemis astronauts to help you get to know these pioneering explorers. This week meet Christina Koch.
Selected by NASA in 2013, Koch has completed one long duration spaceflight (Expedition 59, 60 and 61) to the International Space Station (ISS). Learn more about Koch with these three fast facts:
1. She currently holds the record for the longest single spaceflight by a woman.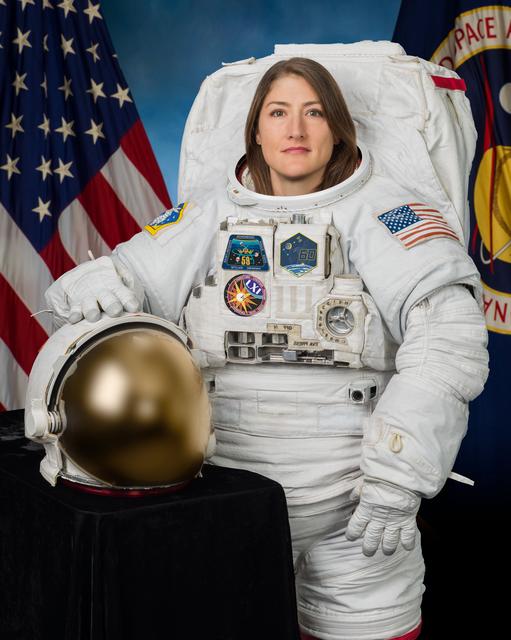 With her first spaceflight, Koch set a record. Upon completion of her long duration mission to the ISS, she had logged a total of 328 days in space, the longest single spaceflight by a woman!
On March 14, 2019, Koch launched from the Baikonur Cosmodrome on a Soyuz spacecraft. She served as a flight engineer on the ISS for Expedition 59, 60 and 61.
While in space, Koch and her fellow crew members conducted hundreds of scientific experiments, including protein crystal growth investigations to aid pharmaceutical research, and printing tissue in zero gravity using 3D biological printers.
Koch returned to Earth on Feb. 6, 2020, after nearly a year in space!
2. She took part in the first all-woman spacewalk.
While in space, Koch participated in six spacewalks, including the first all-woman spacewalk!
On Oct. 18, 2019, she and fellow NASA astronaut Jessica Meir floated outside the ISS, high above the Earth, for the first all-woman spacewalk. The duo performed the spacewalk to replace a bad battery charge/discharge unit on the station.
Koch has logged 42 hours and 15 minutes of extravehicular activity (EVA) time spanning all six spacewalks.
Watch the moment Koch and Meir made history during the first all-woman spacewalk in the NASA clip below:
3. She carried her love of surfing into space.
In an interview with SURFER Magazine last summer, Koch spoke about her passion for surfing and the ocean. While in space, Koch took some time to photograph surfing hot spots around the globe, as well as some of the places she has surfed in the past.
"Knowing that the same waves I could see through my lens from 250 miles up, I had once ridden was really, really cool," she told SURFER.
Koch shared her wave shots via social media (see the posts below), and she even had time to watch some surfing competitions from onboard the ISS!
As if that isn't cool enough, Koch was even interviewed while on station by champion surfer Kelly Slater and the World Surf League. Watch the interview below!
Continue to celebrate Women's History Month by reading about three female space pioneers who have significantly contributed to America's space program! Click here to read more fun facts about NASA astronaut Christina Koch.