Watch Perseverance land live!
UPDATE: The planned live viewing at Space Center Houston of Perseverance landing on Mars has been canceled due to winter weather conditions, but you can still watch the landing virtually. The landing is currently scheduled for 2:55 pm CT on Feb. 18. You can watch live on NASA TV.
The time has finally come for the latest Mars rover to touchdown on the red planet! On Feb. 18, NASA's Perseverance rover will arrive at the Jezero Crater on Mars.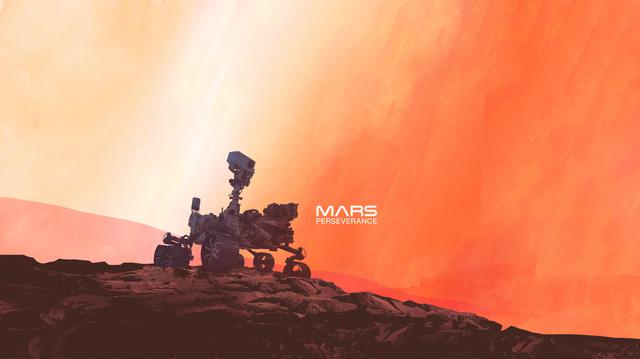 The six-wheeled, car-sized Perseverance is NASA's fifth Martian rover and is by far the largest and heaviest NASA has constructed so far. Perseverance is part of the Mars 2020 mission which will last at least one Martian year, or roughly 687 Earth days, and aims to:
Search for signs of past microbial life
Characterize the Martian climate and geology
Collect rock core and sediment samples, and prepare them to be returned to Earth for closer study
Pave the way for future human exploration beyond the Moon by demonstrating the viability of technologies that will help humankind live and work on planets other than our own
According to NASA, the Mars 2020 mission is carrying 25 cameras to Mars (19 of which are on Perseverance), the most to be flown for a planetary mission.
Perseverance is also packed full of scientific instruments, which will allow the rover to study the red planet more closely and traverse the terrain more efficiently.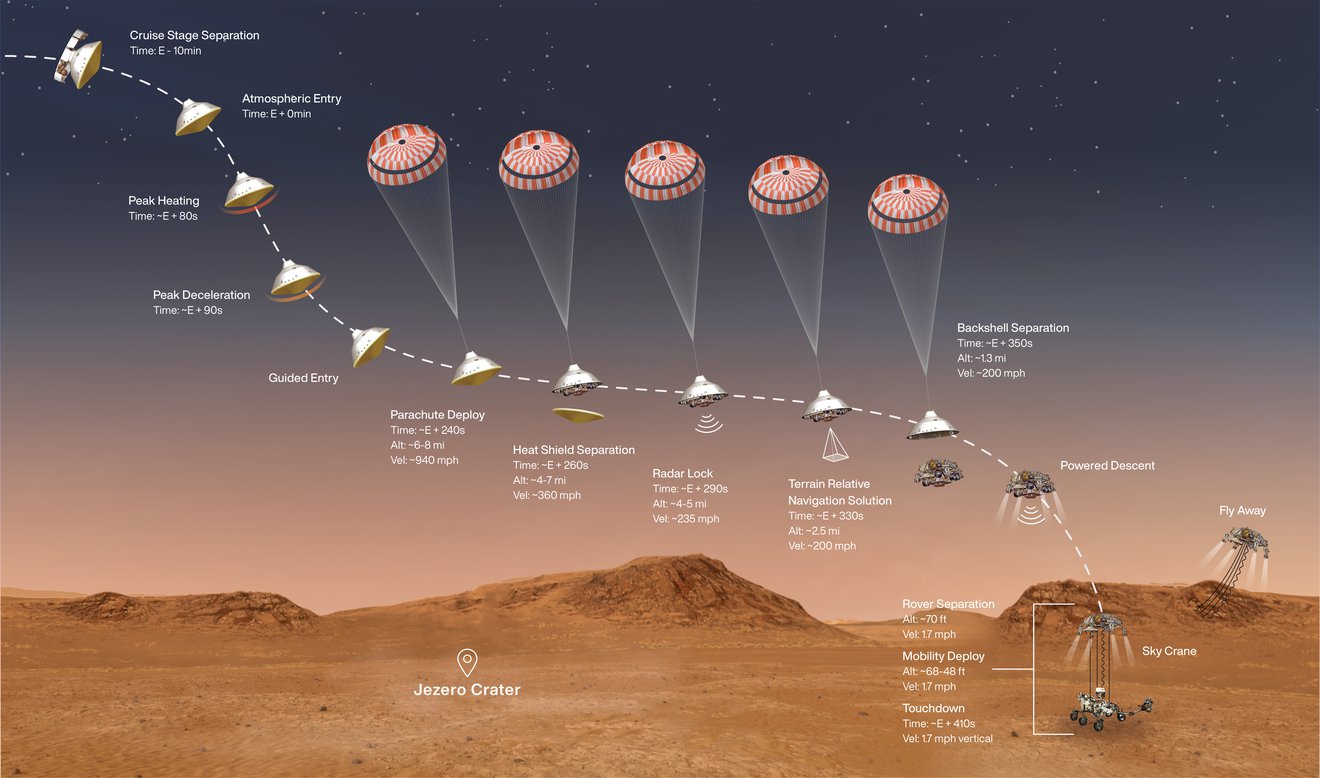 One of these futuristic technologies being tested with Perseverance is its Terrain-Relative Navigation system, which will allow the rover to rapidly and autonomously comprehend its location above the surface of the red planet and change its descent trajectory. According to NASA, if successful, this will prove to be a vital component of future robotic and crewed missions to explore Mars.
Another technology demonstration being ferried by Perseverance is MOXIE, or the Mars Oxygen In-Situ Resource Utilization Experiment. This investigation will attempt to demonstrate how future space explorers might create oxygen for breathing air and creating rocket fuel from the carbon dioxide in the Martian atmosphere.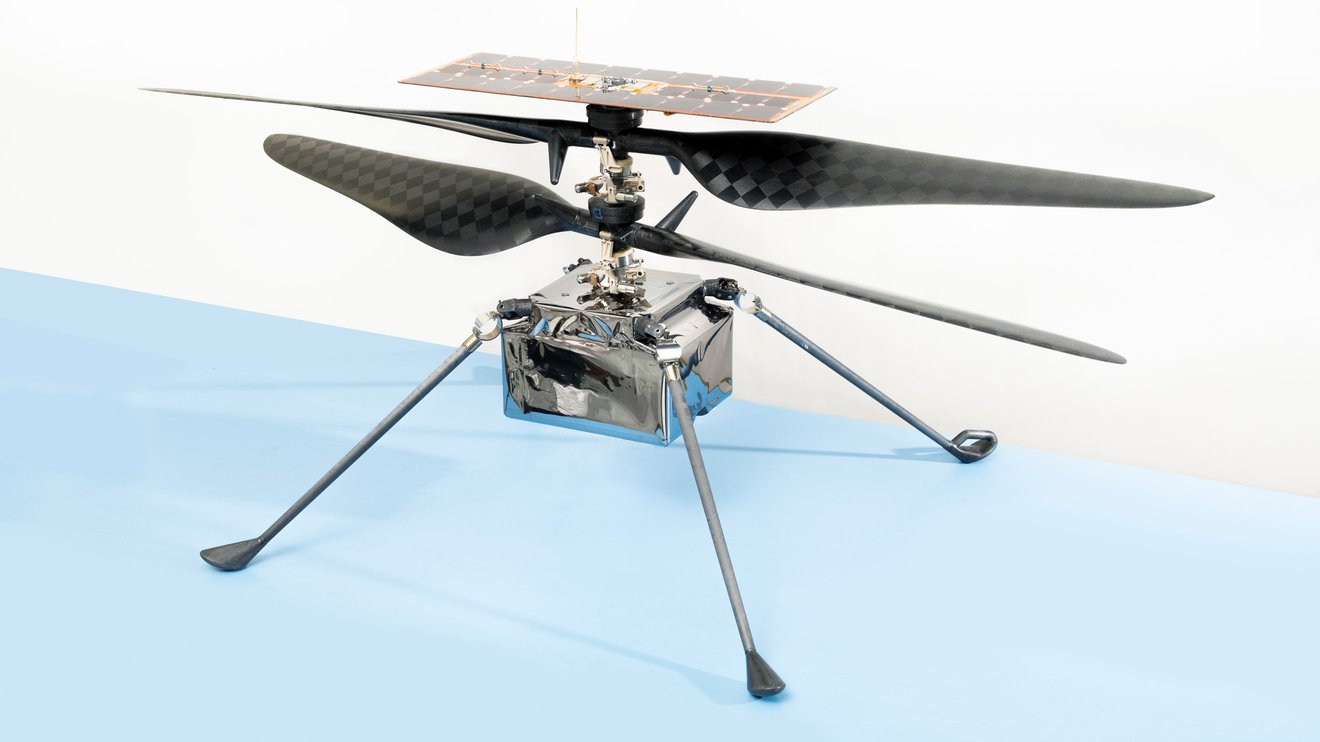 Perhaps the most interesting technology experiment being carried to Mars on the underside of the Perseverance rover is a helicopter named Ingenuity, which will attempt to become the first aircraft to achieve controlled flight on another planet!
The names Perseverance and Ingenuity were selected from among 28,000 entries from across the United States spanning grades K-12 in the "Name the Rover" contest put on by NASA.
Perseverance was named by seventh grade contest winner Alex Mather from Springfield, Virginia, and Ingenuity was named by high school junior Vaneeza Rupani from Northport, Alabama.
According to NASA, in his winning essay, Mather wrote, "We are a species of explorers, and we will meet many setbacks on the way to Mars. However, we can persevere. We, not as a nation but as humans, will not give up."
Perseverance is certainly bringing all of humankind along with it on this important mission! In fact, attached to the rover are three silicon chips which carry the names of roughly 10.9 million people who signed up as part of NASA's "Send Your Name to Mars" campaign to tag along on the Mars 2020 mission. Also included are the names of the 155 essay finalists in the "Name the Rover" contest.
What's more, we will all be able to partake in the adventure by watching Perseverance land on and explore the surface of Mars through the detailed images it will capture with its record-breaking number of cameras.
Don't miss out on your chance to witness this historic moment in deep space exploration!
The landing is currently scheduled for 2:55 pm CT on Feb. 18. You can watch the event live on NASA TV.
Learn more about Mars through our Mission Mars exhibit as well as our January Thought Leader Series, presented by The University of Texas Medical Branch (UTMB), below.
To learn more information about the Perseverance landing, click here.