Last year, NASA named the first Artemis astronauts. The mission to return to the Moon begins with the first Artemis flight scheduled to launch later this year. We are featuring each of the Artemis astronauts to help you get to know these pioneering explorers. This week meet Kayla Barron.
Barron was selected by NASA as an astronaut candidate in 2017 and following two years of rigorous training, became an astronaut in 2020. While she has yet to fly in space, NASA recently announced that she will fly aboard a NASA SpaceX mission later this year.
Learn more about Barron with these three fast facts:
1. Prior to her selection, Barron served in the U.S. Navy as a submarine warfare officer.
Barron was just 14 years old when the World Trade Center was attacked on September 11, 2001. The tragedy had a profound impact on her, and ultimately spurred Barron to serve her country as a member of the armed forces.
According to her NASA bio, Barron was commissioned as a Naval officer in 2010. Following her graduate education, she attended the U.S. Navy's nuclear power and submarine officer training and was assigned to the USS Maine, an Ohio-class ballistic missile submarine, where she qualified as a submarine warfare officer.
Her bio also notes that she was among, "the first class of women commissioned into the submarine community."
2. A chance encounter with a former astronaut and the support of her mentors spurred Barron to apply to be an astronaut.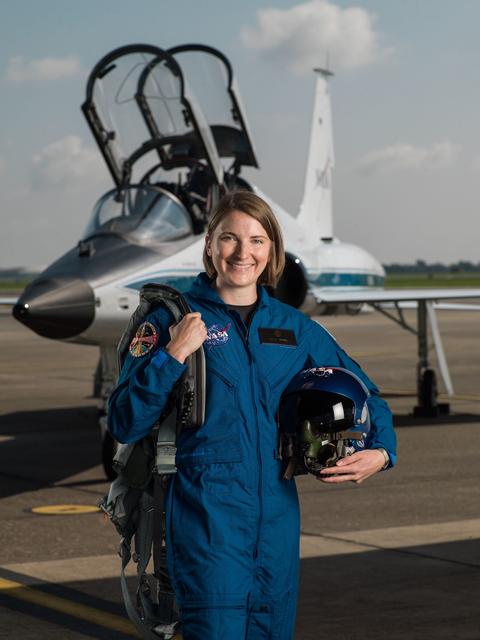 Barron never grew up thinking she would become an astronaut. However, while serving as the Flag Aide to the Superintendent of the U.S. Naval Academy, she had the opportunity to meet NASA astronaut Kay Hire, who had flown into space many times.
In the NASA clip above, Barron explains that she and Hire got to talking about the parallels between life on a submarine and life onboard the International Space Station.
It was then that the idea of becoming an astronaut didn't seem too far-fetched to Barron.
All it took was a slight push from her mentor, Admiral Ted Carter, who encouraged her to apply, and now Barron is preparing for her first flight to space!
3. She is currently preparing to fly aboard the upcoming NASA SpaceX Crew-3 Mission, scheduled to liftoff later this year.
Barron has been assigned to her first spaceflight, the upcoming NASA SpaceX Crew-3 Mission, currently slated to launch in October. She will be joined by NASA astronauts Raja Chari and Tom Marshburn, as well as European Space Agency (ESA) astronaut Matthias Maurer, for the six-month science mission.
This will mark SpaceX's third crew rotation and fourth crewed flight to the ISS.
Want to learn more about the Artemis astronauts? Click here to read more about the Artemis Team.