Members' Earth Day Soiree
Friday, April 22 | 6:30 p.m.
This event is for Space Center Houston members only and space is limited. Get your ticket(s) now.
Not a member? Join today!
Our 2nd annual Plant Earth Celebration explores sustainability, weather, conservation and more.
Celebrate planet Earth at Space Center Houston April 22-23 with activities, speakers, and special tram tours showing why our planet is so special and what we can do to conserve our natural resources.
Explore sustainability, investigate acceptable weather conditions for a spacecraft launch, hear from guest speakers and experts, watch an atmospheric balloon launch, and more.
Learn about space sustainability efforts and reusable rockets like Space Center Houston's twice-flown SpaceX Falcon 9 rocket.
As a special treat for Space Center Houston members, we are hosting an evening of VIP access to the Planet Earth Celebration on April 22. Join us for dinner, with Earth-friendly options created by Wolfgang Puck Catering, and a fascinating discussion. Feast on microgreens; get creative with Tanya Rogers and her colleagues from The People's CO2; and get growing with the real-life Martian, Jeff Raymond, co-founder; and Eden Grow founder, CEO and futurist Bart Womack. Visit with Houston inventors and entrepreneurs who are unlocking NASA technologies that make sustainability widely accessible on Earth and also help advance progress toward deep space exploration.
Doors open at 6 p.m. and dinner will be served at 6:30 p.m. This event is for Space Center Houston members only and space is limited. Guarantee yourself some savings and get $15 off your tickets when you purchase by April 15 and use the promo code SAVE15.
Patron members are invited to join us gratis. However, RSVP is required! membership@spacecenter.org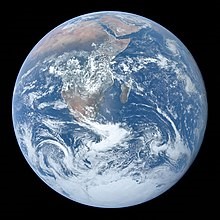 Did you know?
NASA astronauts captured the photo known as the "blue marble," an image of the entire Earth as seen from the vast expanse of space by a human eye. It's among the most widely distributed images in history and now a symbol of modern environmental movements around the world.
This image has further increased our awareness of the Earth's beauty, vulnerability and its singularity. Earth observation and research from satellites continue to inform us about our global environment.