This fall, we are exploring how space inspires progress. The exploration missions of today will fuel the deep space expeditions of tomorrow. One pioneering technology demonstration, named Ingenuity, is soaring above the red planet, and laying the foundation for autonomous powered flight on worlds beyond our own.
A helicopter on Mars?
Meet Ingenuity, NASA's first helicopter on the red planet. The autonomous Mars helicopter is small but mighty. It weighs in at just four pounds, but according to NASA, it can fly for up to 90 seconds, cover a flight distance of up to 980 feet, at an altitude of up to 15 feet, in Mars' thin atmosphere. However, later flight tests far surpassed these initial specs.
It landed on the red planet (on the underside of the Mars 2020 Perseverance rover) on Feb. 18, 2021. Just a couple months later, on April 19, Ingenuity had made its first flight, achieving the first controlled, powered flight on another planet! The flight only lasted 39.1 seconds, and climbed to just 10 feet, but this accomplishment marked a significant milestone in the history of deep space exploration.
Through each successful flight, Ingenuity is paving the way for future aerial exploration vehicles, which could eventually be used to assist Martian rovers, or astronauts, on the surface of the red planet.
While Ingenuity does not carry any scientific instruments, future aerial exploration vehicles most likely will. This would help scientists and researchers learn more about difficult-to-reach areas on Mars' surface, and make these areas more accessible to study.
What's next for the Martian helicopter?
It was meant to be a simple technology demonstration, but after several successful test flights, Ingenuity transitioned to an operations phase, where it has been tested over longer distances, above more difficult terrain, and for longer durations. The helicopter has even helped scout out sample sites for the Perseverance rover and helped get images of areas where the rover might not be able to explore.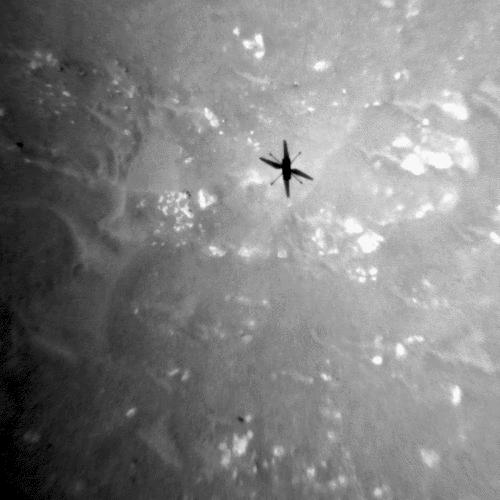 This reconnaissance aspect is a key capability that could aid future explorers and rovers on the surface of Mars. Scientists, engineers, and pilots alike are learning how to use this new technology to best assist future deep space exploration missions. Perhaps later models will even include scientific instruments as well.
Ingenuity has completed 13 flights on the red planet. However, it has faced its fair share of challenges, one of which includes dropping Martian atmospheric density, which makes it much harder to fly the helicopter. Future flight demonstrations are focusing on how to overcome this obstacle.
It is unclear how many more flights Ingenuity will conduct, but it has already far surpassed what it was initially slated to do.
Fun facts:
The Martian airfield where Ingenuity's historic first flight took place was named Wright Brothers Airfield, after the famous brothers who flew the first controlled, sustained flight of a heavier-than-air powered aircraft.
Ingenuity traveled the farthest distance, roughly 2,051 feet, during flight 9.
Ingenuity's longest flight to date was flight 12, lasting 169.5 seconds.
The highest altitude Ingenuity has reached thus far is approximately 39 feet, and the fastest speed the helicopter has reached to date is roughly 11 miles per hour.
Learn more about the Mars 2020 mission here, and solve more space with our Perseverance puzzle.