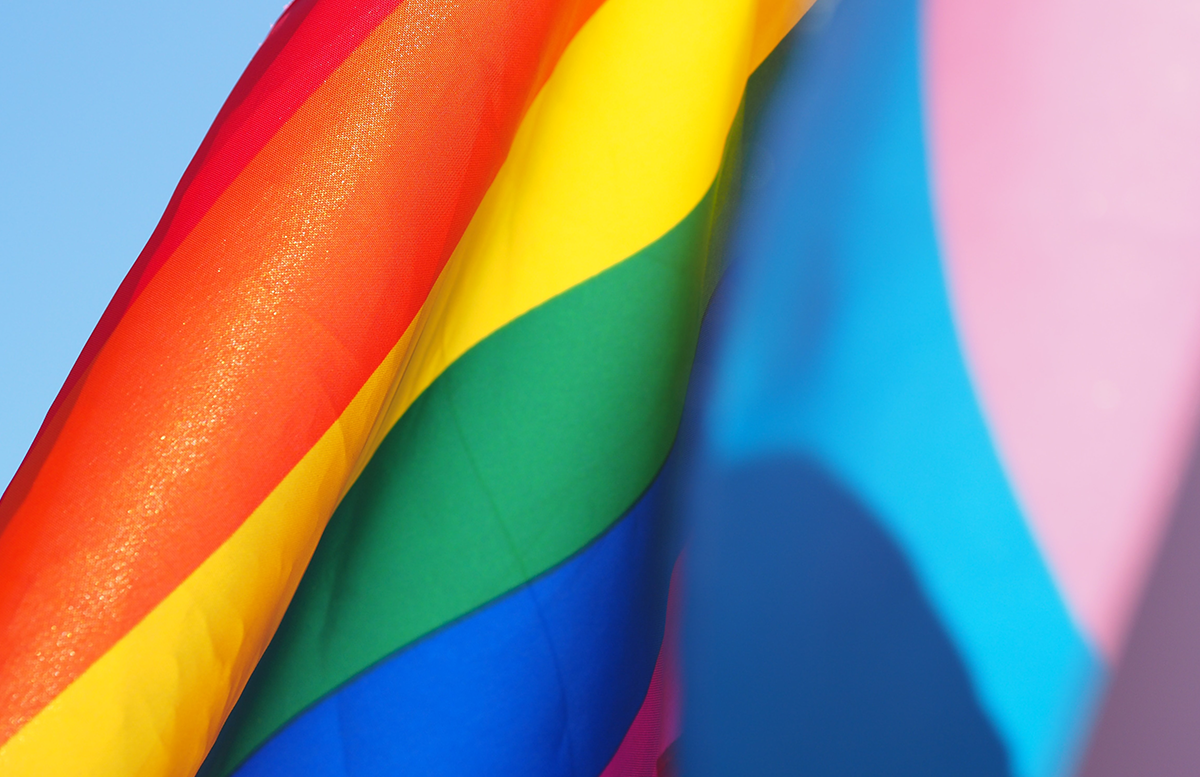 On June 18, 1983, Sally Ride became the first American woman in space. That wasn't the only barrier she broke that day, but it wasn't until her obituary almost 30 years later that she shared with the world her partner of 27 years, Tam O'Shaughnessy.
Not only was Ride the first American woman in space, but also, she was the first openly LGBTQ+ astronaut.
June is Pride Month, and we want to celebrate LGBTQ+ people who are paving the way in space exploration.
Ride opened the door for many LBGTQ+ people working in the space and aerospace industries to be visible.
In 2018, astronaut Wendy Lawrence came out while accepting a prestigious honor, the United State Naval Academy Distinguished Graduate Award. It was the first time a living astronaut had publicly come out.
Lawrence was selected as an astronaut in 1992. She is a veteran of four spaceflights, logging over 1,225 hours in space. She retired from NASA in 2006.
It wasn't until 2018 that a current NASA astronaut came out. Anne McClain was selected as an astronaut in 2013. She was the youngest selected in her astronaut class.
McClain launched in 2018 on Expedition 58/59 to the International Space Station, where she spent 204 days in microgravity. The Expedition 59 crew contributed to hundreds of experiments in biology, biotechnology, physical science and Earth science.
Today, NASA has an LGBTQ Pride Alliance that advocates for inclusion. The group aims to educate the workforce on challenges facing the LGBTQ+ community and equip them with knowledge and tools on how to become advocates for a workplace free from discrimination.
Right here in Space City, NASA Johnson Space Center (JSC) has an Out & Allied Employee Resource Group (ERG).
The Out & Allied ERG hosted a NASA booth at last year's Houston Pride Festival as an outreach activity reaffirming the presence of NASA in the Houston area. They also released a video featuring the experiences of some of their LGBTQ+ crew members in support of the It Gets Better Project to inspire hope for young people facing harassment.
Accessibility, equity and inclusion is the very fabric of Space Center Houston. We established Space Center Houston's Social Justice and Equity Team and continue to focus on how we can advance and benefit our community, state, nation and the world through being inclusive and empathetic in our work.
We committed to following key principles within our organization and those within our community such as instituting policies that promote acceptance, respect and opportunity for all human beings. We are taking meaningful actions to serve our community. And, we will set measurable goals and practice rigorous accountability in our diversity, inclusion and outreach efforts within our own institutions. A more equitable and inclusive Houston strengthens not only our community, but also positions our region to be more economically competitive as a global city.
NASA Features:
Robert Blake

"I am the Discrimination Complaints Manager, Special Emphasis Program Manager for Veterans, and Acting Deputy Director. I counsel NASA employees involved in conflict and I assist them as they navigate the pre-complaint stage when they feel discrimination has occurred. I assist veterans with onboarding and retention with engagement activities, training opportunities, mentoring, and counsel. I represent the JSC Office of Equal Opportunity & Diversity (OEOD) in support of the OEOD Director.
"Our achievements are more significant if we do them to the inclusion of everyone. If we are to sustain ourselves as a nation, over the long term, we need to do this with unity. And because we are NASA, prominent and respected, it is our obligation to do it because we do the hard stuff. And after we do it, a path is forged for others to do it more easily."
— Robert Blake, Acting Deputy Director of the Office of Equal Opportunity and Diversity, Johnson Space Center
Cait Milders
"My title is Radiation Health Specialist, and I work in the Space Radiation Analysis Group in Ops at NASA's Johnson Space Center. I keep tabs on research in radiation sciences to update NASA's space radiation limits, and I provide recommendations to make sure astronauts stay below those limits.
"The best work gets done when there are multiple perspectives to contribute. With multiple perspectives from varied backgrounds, it is more likely any errors will be uncovered, and perhaps more importantly, that new directions will be prioritized and explored. With NASA's mission, it is even more crucial. We are doing something that will impact humans as an entire species. All humans should be represented when we make mission-critical decisions."
— Cait Milders, Radiation Health Specialist in the Space Radiation Analysis Group in Ops, Johnson Space Center
Bob Lutz

"I'm presently leading a task performing sustaining engineering for flight software on launched Earth and space science missions. I had worked for 10 years in the development of ground systems for two weather satellites: the Geostationary Operational Environmental Satellite and the Joint Polar Satellite System. I'm also Co-Chair of the LGBT Advisory Committee and a long-time member of the Engineering and Technology Directorate Diversity and Inclusion Committee.
"My favorite project was supporting the establishment of a field experiment in the boreal forests of Canada (BOREAS) led by Piers Sellers (who became an astronaut). We had to bushwhack through the dense boreal forest with compasses to find the optimal place to build air chemical flux towers to be used in the experiment. Fun work, but not exactly your typical NASA-type work! Here at NASA we solve problems – lots of them are hard! People with different backgrounds and different ways of thinking contribute to a solution set that maximizes our chance for success."
– Bob Lutz, Lead Flight Software Engineer for Earth and Space Science Missions
Johnathan Weiland

"In 2015, I had the pleasure of working with the awesome folks in the Lesbian, Gay, Bisexual, and Transgender Advisory Committee (LGBTAC) at Goddard on the development of a training session for first-line supervisors to utilize inclusive language and create an inclusive environment for the LGBTQ workforce. As a participant in the panel of speakers, I shared my past experiences, positive and negative, with the goal of educating managers on why the language we use every day matters.
"Diversity goes beyond just black or white, gay or straight. It delves deep into the way we think, the way we were raised, and ultimately the person we bring to work each day. The different facets of the jewel of diversity matter. It's our job and responsibility to celebrate diversity, listen to one another, and better understand ourselves from our differences, rather than let them tear us apart."
— Jonathan Weiland, Technology Enterprise Mission Pathfinder Office (TEMPO) Resources Analyst, Goddard Space Flight Center
Mike Ciannilli

"My dream was to launch rockets into outer space ever since I can remember. And I have been honored to do just that for many years. Now I am grateful to have the exciting opportunity to help share NASA's amazing 60 years of history and experience with a huge array of private, corporate, governmental, educational and international partner organizations, of all fields, to help contribute to their future mission successfully and safely.
"A diverse environment is absolutely critical to our mission success. In the Space Program we encounter and do our best to successfully solve some of the most complex and time critical problems. Having a diverse workforce, which can bring many unique ideas and solutions to the table, greatly increases our chances of having subsequent mission success."
— Mike Ciannilli, Program Manager for the Apollo Challenger Columbia Lessons Learned Program, Kennedy Space Center