Take a closer look at the upcoming Artemis I flight, a mission that will pave the way for future lunar exploration, in our newest blog series.
When Orion blasts off for the first Artemis mission, so too will several CubeSats.
These shoebox-sized satellites will catch a ride on Orion and will deploy into space as the capsule makes its way to the Moon. The CubeSats will conduct experiments and observations that will help scientists and researchers learn more about the deep space environment and how to prepare for human exploration beyond the Moon.
While NASA's Space Launch System has been designed to hold up to 17 of these small satellites, NASA is focusing their efforts on 10 secondary payloads for the upcoming Artemis I mission.
Read more about these ten CubeSats below:
Lunar IceCube

As humans journey farther into space, the capability to search for critical resources like water will be crucial to a mission's success. Lunar IceCube, developed by Morehead State University in partnership with NASA's Goddard Space Flight Center and the Busek Company, will use instruments to search for water and other resources on the Moon from above the lunar surface.

NEA Scout

Eventually, astronauts will explore asteroids. Before they do, it's a good idea to have done some reconnaissance beforehand. That's where NEA Scout comes in. The CubeSat developed by NASA's Marshall Space Flight Center will perform a flyby of a small asteroid and collect observational data on its environment.

BioSentinel

Then, there's BioSentinel, developed by NASA's Ames Research Center. This CubeSat is out to study how living organisms are affected by deep-space radiation. This 18-month mission, which utilizes yeast to assess the effects of deep-space radiation, marks the first time in over 40 years that living organisms have been sent to deep space. The findings of this experiment will ultimately serve to protect humans on future exploration missions.

LunaH-Map

The Lunar Polar Hydrogen Mapper (LunaH-Map) was developed by Arizona State University and will map water deposits on the lunar surface, allowing NASA to assess the distribution of this vital resource on the Moon.

ArgoMoon

Developed by Italian company ArgoTec in partnership with the Italian Space Agency (ASI) and the European Space Agency (ESA), ArgoMoon is on a mission to prove it can function close to the Interim Cryogenic Propulsion Stage (ICPS). It will also document the ICPS in action and yield data on the other CubeSats that might prove useful for planning future deep space missions.

CuSP

What if there was an interplanetary space weather station? The cereal-box-sized CubeSat to study Solar Particles (CuSP) just might be the answer to that question. CuSP, developed in partnership between NASA and the Southwest Research Institute, will hang out in interplanetary space orbiting our Sun where it can monitor inbound radiation, and ultimately help scientists better understand space weather.

LunIR

Risk mitigation is key for the upcoming crewed lunar exploration missions. That's why Lockheed Martin's LunIR CubeSat will conduct a lunar flyby and use infrared imaging to take observations of the lunar surface. In short, the more we know about the surface of the Moon, the more we will be able to protect future lunar explorers.

Team Miles

Drag racing to the Moon? The Team Miles CubeSat was one of three winning entries in the semi-final round of NASA's Cube Quest Challenge. Developed by Fluid & Reason, LLC, this CubeSat is catching a ride to space to participate in NASA's Deep Space Derby, where it will use plasma thrusters to propel the CubeSat in a "drag race to the Moon," notes team lead Wesley Faler.

EQUULEUS

This small CubeSat is on a big mission. EQUULEUS, which stands for Equilibrium Lunar-Earth point 6U Spacecraft, was developed in a partnership between the Japan Aerospace Exploration Agency (JAXA) and the University of Tokyo. Radiation can cause damage to electronics and astronauts alike during longer duration spaceflight missions. That's why scientists are hoping EQUULEUS will provide them with a better understanding of the space radiation surrounding the Earth by taking images of the planet's plasmasphere.

OMOTENASHI

OMOTENASHI is setting out to demonstrate that lunar landers come in all shapes and sizes. Like EQUULEUS, the Outstanding Moon exploration Technologies demonstrated by Nano Semi-Hard Impactor (OMOTENASHI) CubeSat was developed by JAXA and the University of Tokyo. It will attempt to prove the capability of small, cost-effective lunar landers to explore the Moon's surface.
Want to know more about the secondary payloads for the upcoming Artemis I mission? Check out the NASA infographic below: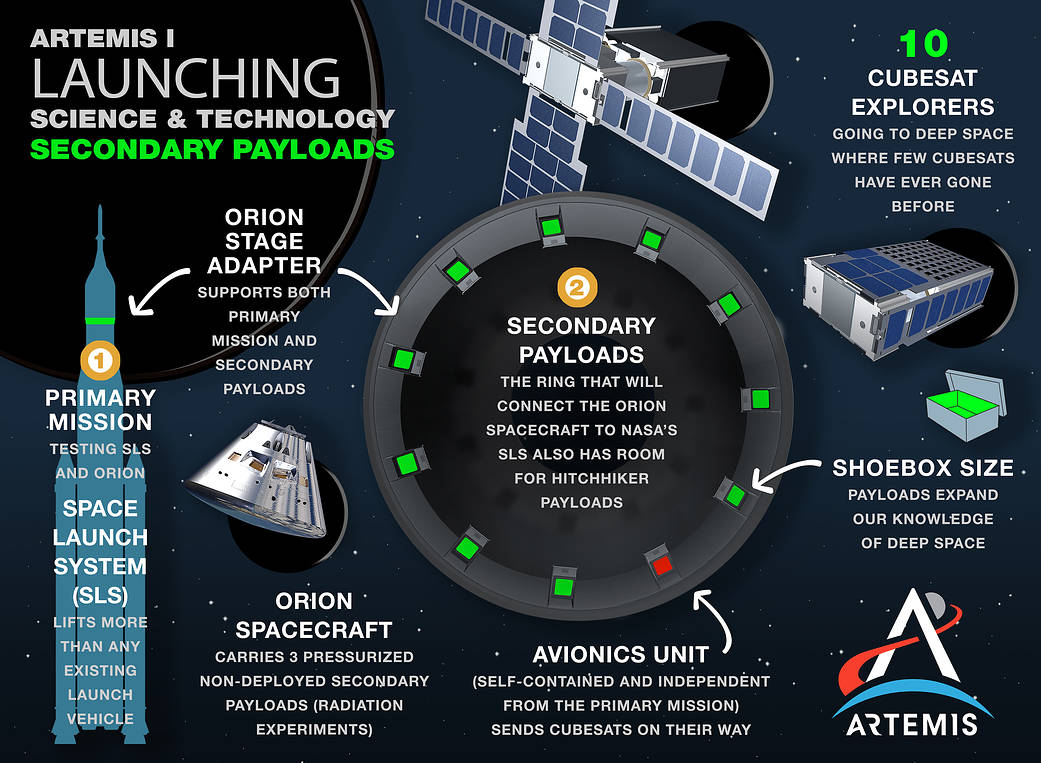 Learn more about the Artemis I CubeSats here.
More to explore
Last updated: Aug. 16, 2022.