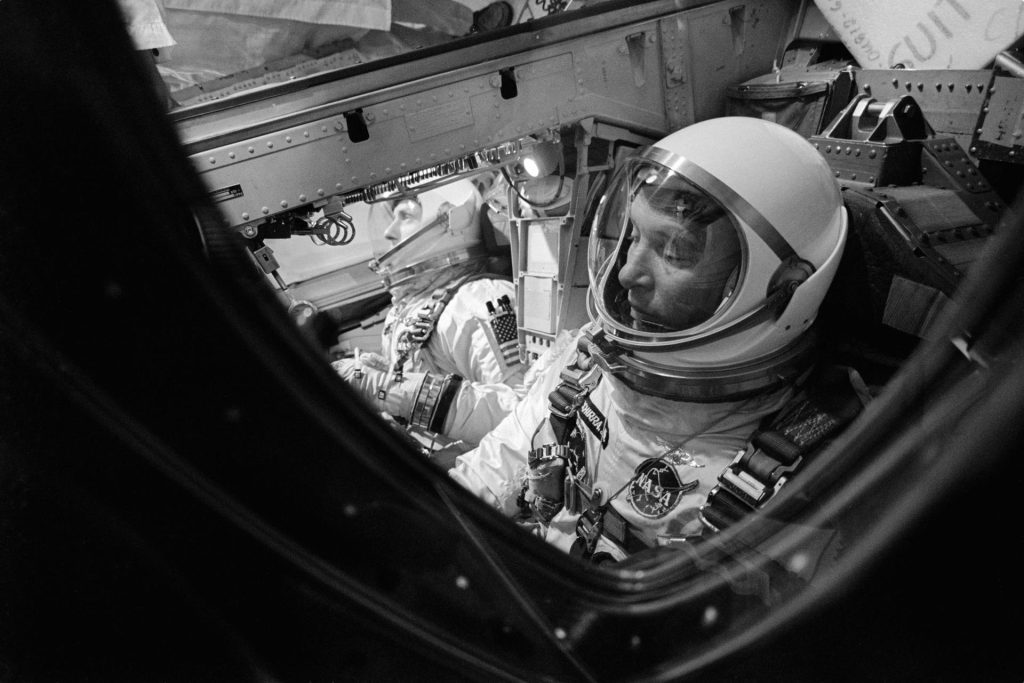 During the Gemini 6 mission, NASA surprised astronauts Wally Schirra and Tom Stafford with a special wake up call. Popular singer Jack Jones sang "Hello Wally" to kick off a funny parody of Broadway-hit song, "Hello Dolly!" The fun inside joke became a mission tradition and musical astronaut wake-up calls were born.
Use of music to awaken astronauts on space missions dates back to the earliest space missions. Since the Gemini 6 mission in 1965, the tradition has evolved but several themes have prevailed over the years.
In a 1990 letter, Lynn W. Heninger, Acting Assistant Administrator for Congressional Relations, said, "The common element of all these selections is that they promote a sense of camaraderie and esprit de corps among the astronauts and ground support personnel. That, in fact, is the sole reason for having wake-up music; and it is the reason that NASA management has neither attempted to dictate its content nor allowed outside interests to influence the process."
Apollo-era astronauts were often serenaded by their colleagues in Mission Control with lyrics from popular songs that seemed appropriate to the occasion. Several Apollo crews were awakened on their final day in space to Dean Martin's popular song "Going Back to Houston."
Another popular wake up call that has stood the test of time is Frank Sinatra's "Come Fly With Me." The song was first used on the Apollo 10 mission for astronauts, but it has been used many times throughout the years.
As you might have guessed, Elton John's "Rocket Man" is another popular choice. "Rocket Man" debuted around the time of the Apollo 16 mission. The 4.5-minute song, which describes a long-term space-bound astronaut's mixed feelings at leaving his family to do his job, has been played to awaken four shuttle crews aboard Discovery and Atlantis.
"Rocket Man" was also one of NASA's top 40 wake-up call songs listed for voter selection during a contest to commemorate the space shuttle Discovery and Endeavour's last missions, earning nearly 5,000 votes from the public. The song inspired by space exploration woke up the final Space Shuttle Program crew of Atlantis one last time: "Good morning Atlantis, this is Elton John. We wish you much success on your mission. A huge thank you to all the men and women at NASA who worked on the shuttle for the last three decades."
"[The calls] offer an opportunity for levity and a bit of shared camaraderie. It tends to stand out as a human element in an otherwise complex technical enterprise." Astronaut Kay Hire, CAPCOM for STS-79
College fight songs are also a very popular choice. The STS-8 mission in 1983 featured four college fight songs including "Georgia Tech Fight Song" for the alma mater of Commander Richard Truly, "Illinois Fight Song" for Mission Specialist Dale Gardner's alma mater, "Penn State Fight Song" for Guy Bluford's Alma Mater, and "University of North Carolina Fight Song" for alumnus Bill Thornton.
As technology evolved, so did the wake-up call. Astronauts began selecting dialogue from movies and TV shows. Patrick Stewart, "Star Trek's" Captain Jean-Luc Piccard, recorded a special message announcing the "voyage of the Space Shuttle Atlantis" as the STS-44 crew explored the "final frontier" in 1991. And in 1988, comedian Robin Williams shouted "Gooooooood Morning Discovery!" in a reference to his role in "Good Morning Vietnam."
Just as controllers serenaded Apollo-era crew with songs related to upcoming tasks, it's still commonplace for wake-up calls to serve as a soundtrack for the day. For example, CAPsule COMmunicator (CAPCOM) Shannon Lucid woke up Discovery astronauts Steve Robinson and Soichi Noguchi with Dire Straits' "Walk of Life," in honor of the duo's upcoming spacewalk to work on the International Space Station during STS-114.
When astronauts are in space during holidays, they get seasonal tunes. Different renditions of "Home for the Holidays" has been a classic through the years beginning with the Apollo 17 mission.
Since wake-up call selections are usually made by flight controllers or crewmembers' friends and family members on Earth, they offer a fun way to connect while astronauts are in space.
To give you an example of the variety of song selections during a single mission, below are the wake-up songs for STS-135, the final flights of the Space Shuttle Program.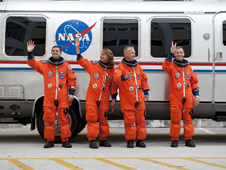 Day 2: "Viva la Vida" performed by Coldplay, a song picked by STS-135 Pilot Doug Hurley. The song was accompanied by a special good morning message recorded by employees at NASA's Marshall Spaceflight Center in Huntsville, Alabama.
Day 3: "Mr. Blue Sky" by Electric Light Orchestra played for Commander Chris Ferguson.
Day 4: "Tubthumping" by Chumbawamba played for Mission Specialist Sandy Magnus.
Day 5: "More" by Matthew West played for Mission Specialist Rex Walheim.
Day 6: Special message from Elton John and wake-up song Rocket Man.
With missions to the Moon and Mars coming soon, we'll see more tunes sent to space. Some suggest "Fly Me to the Moon" could get some covers and move to the top of the charts again.
What songs, theme songs, or movie/television show quotes would your family send to you?
Curious about a chronology of wake-up music for missions? Check out this comprehensive list from NASA History.